Why Stay at a Bed & Breakfast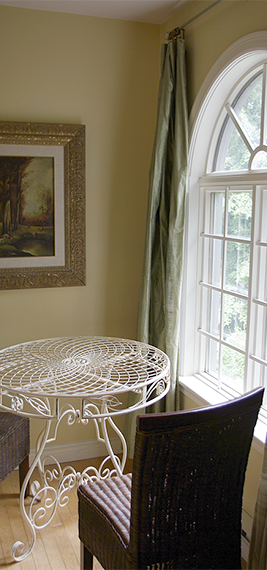 If you've never stayed at a B & B, do you wonder why they appeal so much to some people?
Has anyone ever asked you why people stay at a bed and breakfast? Well, it is a good question because staying in a bed and breakfast has changed a lot over the years. Some people still think it means sharing a bathroom that is down the hall, being made to eat breakfast downstairs at an exact time, and generally feeling like you are in someone else's home. If it was still that way we wouldn't stay in one either!
Thankfully the bed and breakfast business has come a long way from those early images.  Today B & B's are built specifically to be bed and breakfasts with guest rooms designed for privacy and comfort. Even old homes are converted and redesigned to accommodate the bed and breakfast guest of the 21st century. The best part is that each B & B is very unique and is much more than just a place to sleep. The whole experience is what creates a lasting memory and truly a retreat from overly demanding lives.
Variety is a key element in bed and breakfasts because each B & B has its own personality and is usually a reflection of the operators.  There is still a range of breakfast options from individual in-room dining to a group breakfast in a common dining room.  It is always good to ask so that you can select a B & B that matches your preferences and expectations.
At Blue Forest Lane Bed and Breakfast we offer more than a hotel, attention to detail, personal service, and a truly unique experience.
The Top Differences Between Bed And Breakfast And AirBnB
Bed and breakfast facilities have been around for many decades.
These facilities are owned by the property holders, and they rent out rooms at discount prices. 
Also known and B&Bs, these facilities have grown their reputation based on personalized service and luxurious accommodations, including in-house breakfast. 
The advent of AirBnB has muddled the reputation of this eclectic and old-fashioned industry, however. 
If you're deciding between a bed and breakfast in Halifax and an AirBnB property, understand the differences between these properties before booking a room.
Licensed Facilities
When you enter a B&B in Halifax, these professional properties must be licensed by the industry.
Similar to hotels, B&Bs have strict rules to follow in order to remain viable in the business. Insurance, inspections and licensing are part of a legitimate B&B.
When you contact AirBnB, you're contacting basic property owners who may not have any experience in the hospitality industry.
The property won't be licensed or outfitted for guests. In fact, you may not know where the property is until the very last minute. A professional B&B gives you all of the information up front so you know what to expect.
This licensing and inspection process is extremely important for guests to consider when making lodging plans as this affects all aspects of your lodging.
Certain inspections and licenses ensure a clean and sanitary environment, which is of the utmost importance for these types of establishments and is not something you want to fall by the wayside.
---
Questionable Comforts Of Home
A professional B&B in Halifax creates a space that's all your own. An entire room with ample closet space is waiting for you to utilize it as your temporary home.
When you show up to an AirBnB, however, you don't know what to expect. The closet might be full of the owner's clothes with nowhere to put your own things for the time being.
Instead of being full, the AirBnB may be entirely stripped of its contents. You may arrive at a nearly empty home with zero amenities.
Bed sheets may be questionable with countless other items to wonder about.
A traditional B&B cannot operate in these conditions, and you won't find surprises with these professionals in charge.
AirBnbs can include either ancillary properties owned by individuals, or they can be rooms or entire houses that are occupied by the owners whenever they are not rented out.
This means they may not be accommodating for a temporary visitor and can result in an uncomfortable and/or tedious stay in the event you do not bring certain items with you.
In a top-rated Halifax B&B, you will find all of the necessities that every traveler should have – such as toiletries, fresh towels, beverages, and more.
These accommodations ensure that you don't have to overpack for your stay while also providing a luxurious feel to the B&B. 
---
Meals Included
Some of the best meals you'll ever experience will be at a Blue Forest Lane B&B
The property owners normally cook breakfast from scratch. In many cases, the property might have a specialty food that draws in the guests. 
For those properties with attention to detail, afternoon snacks might be available too.
In-room coffee and tea is also a possibility, and of course water is always available to ensure you and your traveling companions remain hydrated. 
Bed & Breakfasts were created not only as a lodging option for the night, but to create an entire experience that includes a delicious and hearty breakfast the next day. 
Whether you're staying one night, or an entire week, having a homemade breakfast can end up being the highlight of your trip. 
In contrast, an AirBnB may or may not have food available in the refrigerator.
You only have yourself as the cook, and filling the kitchen might be first on the list as you arrive. 
It can be a tedious and unwanted task to have to go to a local grocery store to purchase food to stock your empty kitchen on the first day of your long-awaited trip, and having to cook meals can take precious time away from other activities during your vacation.  
Some AirBnb's may not even have its own kitchen available, and you may have to share with other occupants.
---
On-Site Staff
A major difference between B&Bs and AirBnB is the on-site staff. Hosts will greet you as you arrive at a B&B.
They'll show you around the property so that you know what's available during the stay. 
Hosts escort you to your room, and they'll allow you to explore the property otherwise.
If you enjoy an extended stay at an inn in Halifax, you may become friendly with the B&B staff who will always go out of their way to ensure you are comfortable and satisfied with your stay.
AirBnB experiences are devoid of customer-service flair. You'll simply walk into a home that's essentially a rental.
It is not a requirement that anyone show you the property or the amenities, and sometimes you will just retrieve the key from a lockbox and show yourself in.
You'll miss the warmth and hospitality provided at B&B's once you experience having to fend for yourself in an AirBnB.
---
Limited Flexibility
At professional B&Bs, flexibility is part of the allure. Reserve a room for a single person, or bring the entire family to spread out.
Bring your dog to professional B&Bs, and no one has to wonder how your dog is doing back at home.
By calling a local B&B in Halifax, you can speak with a friendly host who can inform you of available dates, the best time of the year to visit, and recommend activities and day trips to keep your vacation fun.
When you book with AirBnB, you may not know what the property looks like until the arrival date. It's possible that it won't fit your needs. 
Certain AirBnB's may have extremely restrictive conditions that cause your trip to be more trouble than it needs to be.
You will have nobody to provide recommendations or to help make your trip the best it could be. 
---
Complementary Features Abound
Get to know the on-site staff because they're normally locals who know the area inside and out. Ask about the best places to eat or listen to regional bands. 
B&B operators are usually thrilled to help out their clients with insider information that's never offered by a hotel or AirBnB.
Expect FREE WiFi and parking at most B&Bs too. 
AirBnB establishments may not offer these amenities or there are exorbitant charges associated with them.